Several units of 50t truck cranes from SANY were purchased by Multiple ICD ltd for handling the materials at a storage yard and helping the installation of mobile port machines in port of Mombasa in Kenya.
The Multiple ICD is an off dock facility located near the port that uses the truck cranes to help in decongesting the port by shifting cargo and customs related activities outside the port area. The company is part of MULTIPLE GROUP, one of the largest transportation and logistics services within Africa.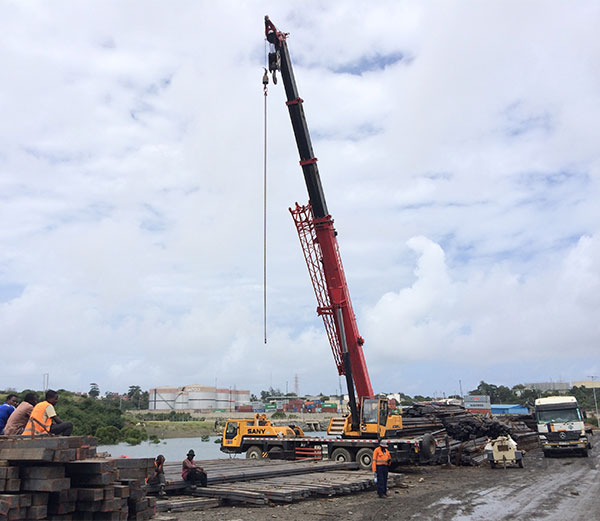 Piles of steels and tubes are stacked in the yard behind the port of Mombasa, and the STC500 truck cranes are mainly used to undertake the lifting and transportation of these heavy loads, and to help set up a reach stacker. The maximum lifting capacity is 50 tons, and equipped with a five-section telescopic boom fully extended reaching 43m, a 16m-long jib, the STC500 truck crane's maximum lifting height is up to 59.2m. Besides, 360° rotation can be realized with maximum slewing speed of 2rpm. The 50t truck crane delivered outstanding lifting performance and high working efficiency on site.
At the same time, STC500 truck cranes are also designed to ensure a safe and stable operation. Its outriggers are made of fine-grain high-strength steel with maximum span of up to 6m plus 7.2m, which enables the crane to operate stably once fixed on the ground. Moreover, at the storage yard, the working conditions are complex, thus crane safety is crucial to all the workers on site including the operators, signalmen, and slingers.
The STC500 truck crane can realize an emergency stop when any risk or danger occurs. Load moment limiter equipped with the comprehensive intelligent system is used with accuracy within 5% more or less to ensure more safe operation. if the lifting height reaching over the appropriate range, the height limiters on boom and jib will be activated to prevent over hoisting of wire rope. In addition, main and auxiliary winches are equipped with over roll-out limiter to protect both the crane machine and the workers on the worksites.